Monday, July 19, 2004
Siren Fest 2004 Photo Essay
(click on the pics to see bigger versions)
We left Late Thursday. Napped just past Baltimore; then we drove into the city in daylight

These cops on Mulberry street locked their keys in their running squad car. They were using a coat hanger to try and get back in.

Cops ride
Segway scooters
on the Boardwalk at Coney Island

Jaime on the Boardwalk

Get to work! Only 351 days left!

Self Portrait in Porta-Potty.

Artsy heh?

We rode the Cyclone of course!

And I got "Cyclone Hair"

We saw bands too!

I didn't have a fancy press-pass so without the marvels of digtal-zoom, I would have never got this picture. It's
TV on the Radio
by the way.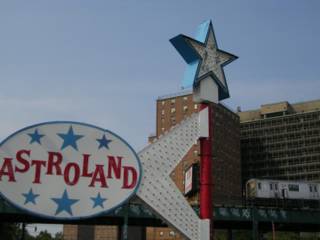 I call this one, "Astroland sign with star, building, and caboose"

Needless to say, Jaime did not ride this ride.

The "shared-bath" hotel.

View out the hotel window.

Feel Free to scroll up and check out my Archives! Thanks for stopping by!